Microscope Equipment Hygiene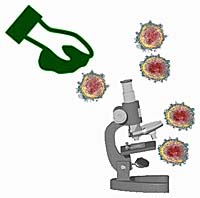 Quick Guide:
Wash hands with soap and water before and after using the system
If soap and paper towels are not available please find a nearby sink or rest room or use your own approved hand sanitizer
Fresh disposable gloves are OK. Please bring your own. Dispose of gloves when leaving area.
70% alcohol is for gently wiping down (not spraying) the keyboard, stage, mouse, joy stick and counter top. Never spray near or on the microscope!
On rubber parts clean with 70% isopropyl alcohol
On plastic parts clean with 70% denatured alcohol
But don't use alcohol of any kind on screens or touch pads
Plastic parts can be cleaned with phenolic wipes (e.g. clorox wipes, lysol wipes)
On scopes with eye pieces remove rubber cups and use spectacles or light weight safety goggles (not provided).
Dispose of wipes, tissues, etc. Do not leave them on the bench.
Take slides, boxes, etc. with you when done so that bench area can be easily wiped down
COVID-19 Mitigation Details:
These guidelines are for communal microscope systems equipment handled by multiple users. Being electrical, mechanical, optical systems they are hard to clean while keeping equipment safe for personal protection and not damaging the sensitive equipment.
This is a guide. It cannot be guaranteed that these procedures provide an absolutely pathogen free system.
Wash hands with soap and water before and after using the system. Or use an approved hand sanitizer.
Don't touch noses, mouths, eyes. Suggestion - light weight safety goggles will remind not to touch eyes.
Bring your own fresh gloves. Dispose of gloves before leaving room. Gloves on microscopes, keyboards, mice, etc. is not a Health & Safety approved practice, but let's be pragmatic. And/or lay a sheet of cling wrap/saran wrap over keyboard and dispose of it when done at the scope.
~70% alcohol is for wiping down (NOT spraying) the keyboard, mouse, joy stick and counter top. (Ethanol is believed to be better than Isopropyl Alcohol for killing coated viruses.)
Eye pieces - remove eye cups and use lightweight safety glasses that you provide, or wear your regular spectacles
Plastic knobs are preferably cleaned with 70% Denatured Alcohol
Metal knobs and parts may be wiped with either 70% Ethanol or 70% Isopropyl Alcohol
Objectives can be difficult to clean adequately. So if you don't clean, then don't touch objectives. The non-optical parts of objectives may be carefully wiped with a minimum amount of 91% Isopropyl alcohol.
Slide holders or stage surfaces can be wiped gently with 70% alcohol
If spraying onto paper towel or kimwipes do it under bench in order to prevent droplets from floating onto microscope optics
NEVER spray on or near the microscope!
Practice "social distancing" at the scope and adjacent equipment.
Don't touch face, especially nose, mouth and eyes. (Mask and safety/eye glasses provide a good reminder about unconscious actions)
On touch screen use manufacturers recommendations. Plastic screens use phenolic based disinfectants. Glass screens use alcohol based disinfectants.
Notes:
It cannot be guarantee that a system is absolutely free of pathogens
Hand soap and paper towels are provided at the sink in the microscope room or rest room. If soap or paper towel supply is exhausted please replenish the supply (we and other users will be very grateful), or at least provide your own. Regard faucet handles and dispenser paddles as being contaminated - Use them with a paper towel.
On Optics:

Never use ethanol on optics. It leaves a grimy film and damages anti reflective coatings.
Never bleach. Bleach, e.g. Hypochlorite, destroys optical coatings, electronics, metal parts.
Never Hydrogen Peroxide
Never use formaldehyde vapor
Never use ammonia based products (e.g. never Windex)
91% Isopropyl alcohol is OK on glass optics if used correctly. Do not leave on lenses for prolonged periods.
91% Isopropyl alcohol will eventually cause plastic to crack.
Don't use isopropyl alcohol on your glasses (spectacles). It will cloud resin lenses.
Approved coated lens cleaner is OK if ever needed. Detergents in such cleaners are expected to kill coated viruses (e.g. corona viruses).

Rubber:*

Use 70% isopropyl alcohol briefly rather than Ethanol
10% Bleach is OK on plastic as long as fluid does not leak into or drip onto mechanisms

On electro-mechanics:

Never bleach. Bleach attacks electronics and metal parts.
Flooding equipment with alcohol or any fluid is not good for electronics and some mechanics. Use it in moderation.

On counter tops:

Alcohol is OK. >70% Ethanol or Isopropyl Alcohol. ~10% bleach (diluted) is OK. Apply to paper wipe. Do not spray where droplets can get to or drift onto optics or electronics - spray on paper wipes under bench or well away from optics.

Touch screens (use manufacturers' recommendations)

Plastic:

Use phenolic wipes (e.g. Clorox Wipes. Clorox wipes do not contain sodium hypochlorite bleach)
70% Ethanol is OK but I will leave a smeary residue'

Glass:

Use phenolic wipes (e.g. Clorox Wipes)
70% alcohol