| | | |
| --- | --- | --- |
| | Michael Hooker Microscopy Facility (MHMF.ORG) | |
Mapping a Drive Letter to CF storage space on the School of Medicine Server
Quick Guide:
---
Detailed Guide: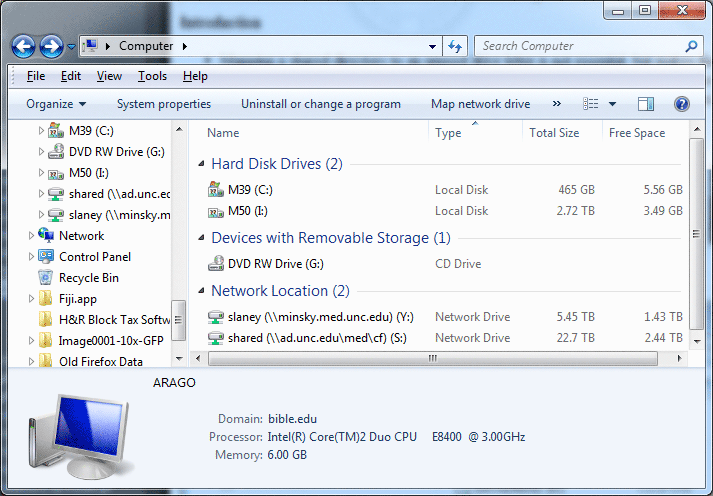 Introduction:
If:

The computer is a member of the AD domain
and you have logged in with your Onyen credentials
and your account has been added to the "MED_CF Everyone" group (or a specific lab. group, e.g. MED_CF Pickles lab") by OIS

Then you will probably have an automatic mapping of:

S: to \\ad.unc.edu\med\cf\shared
H: to \\ad.unc.edu\med\cf\users
G: to \\ad.unc.edu\med\cf\groups

However if the computer is:

not on the AD domain
or you log on locally (e.g. .\username)
or you have a disk drive, optical drive or USB drive that uses the letters G:, H: or S:,
or sometimes the mappings just do not happen (there is the odd quirk in the domain/network system)

Then you will have to manually connect to the CF space on the School of Med server

You can, if you like, map any of the Groups, Users or Shared shares at \\ad.unc.edu\med\cf to any unused drive letter on your computer.
The above window shows \\ad.unc.edu\med\cf\shared mapped to the S: drive letter. The walk through example below is a little different, but will give you the same effective access to the CF shared resources
In Windows there is usually multiple ways to achieve the same task, e.g.:
Detail Instructions:
Open a "Computer" window or hold down the windows-key and press the letter E

Or click on "Computer" on an already open "Computer" window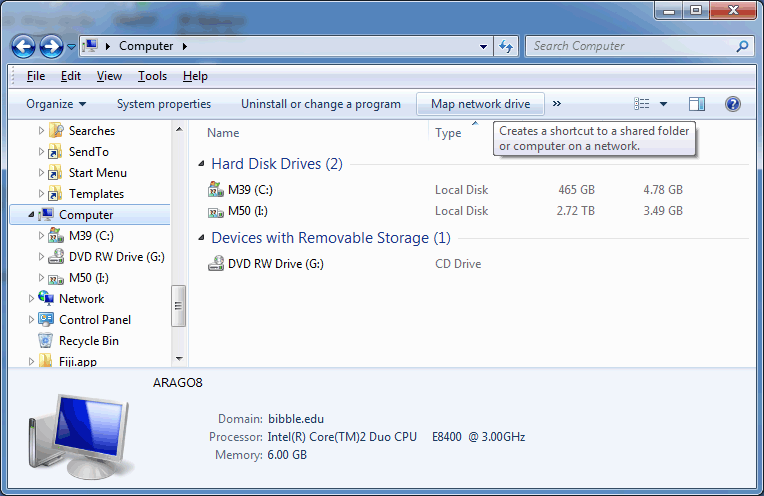 Click on "Map network drive"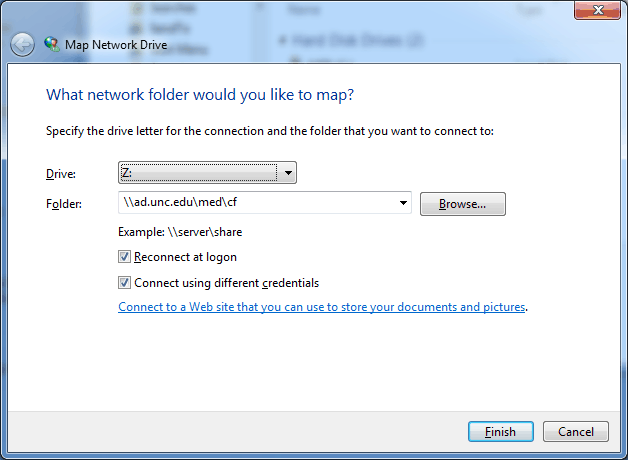 Choose a drive letter. e.g. Z:
Enter a resource "Folder" - e.g. \\ad.unc.edu\med\cf
Check "Reconnect at logon" (feature now blocked by ITS/OIS)
Check "Connect using different credentials" (Important!)
Click "Finish"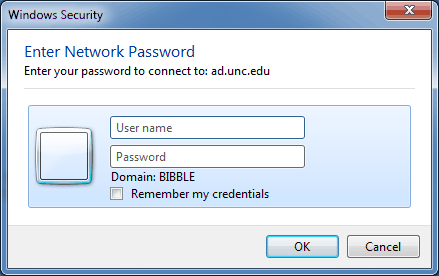 Note "Domain: BIBBLE" means domain has defaulted to the incorrect BIBBLE domaon and needs to be overridden by AD\ before your Onyen name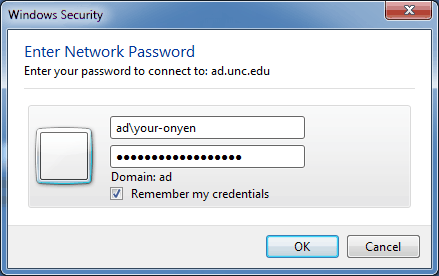 Enter your-onyen
Don't forget the domain "ad\" before your your-onyen (note that "Domain: BIBBLE" changes to "Domain: ad")
Enter your Onyen password
Check "Remember my credentials"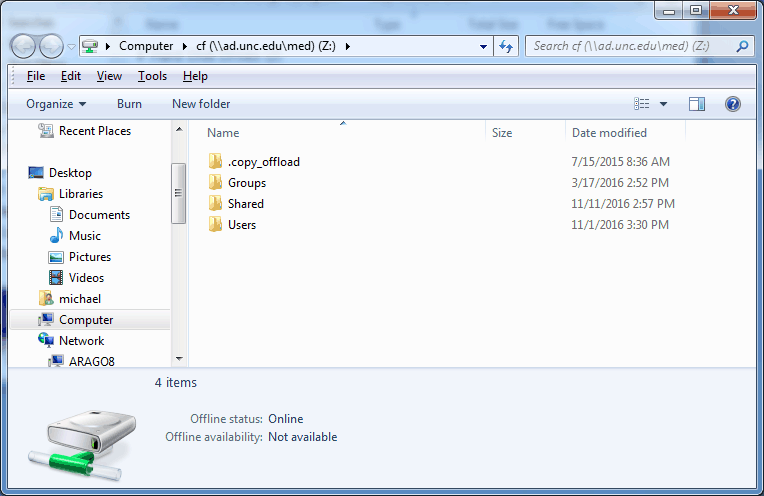 You will be able to click & browse into to the shares that you have permissions for
Note this mapping is a little different in that it is to the parent directory of Groups, Shared & Users to a single drive letter (Z: in this example)
---