| | | |
| --- | --- | --- |
| | Marsico Hall Microscopes Facility (MHMF.ORG) | |
Nikon 80i Upright Microscope
Introduction:
This upright widefield microscope system is intended for transmitted light imaging or fluorescence imaging. Transmitted light imaging uses the green QIclick camera with Windows 10 on the computer called Hamilton. A gray Hamamatsu OrcaER camera is available for fluorescence using the Windows 7 computer called Farnsworth. Please feel free to discuss camera capabilities and using the microscope with personnel.
Book this scope:
If you have not been trained or received an orientation session on this scope please contact personnel.
Currently there is a booking calendar for the Nikon 80i - Those who have booked have priority, then its first come first served.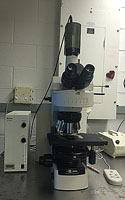 Warnings:
The liquid light guide is fragile. Please do not bend, kink or over flex the liquid light guide. It plugs into the back of the scope body from the Nikon IntensiLight (C-HGFI). It is prone to damage.
Notes:
Powering up: - (if everything is off)
Check that the three table legs are floating
Turn on camera on top of the scope stand (green light on)
Ensure computer and monitor is powered up (usually left on 24/7)
Turn on small square blue switch on right side of scope (filter changer power)
Turn on rocker switch on the back left side of the scope stand (small green light at front is on)
Ensure green switch at front of scope is on (incandescent lamp for transmitted light e.g. H & E)
Ensure incandescent lamp dial on the front left of the scope is fully counter-clockwise (clicked position)
Only turn on Nikon IntesiLight metal halide light source if fluorescence imaging is going to be performed. (Please turn it off if it is not going to be used)
Setting up for transmitted light imaging
--> If transmitted illumination is not required then go to "for fluorescence imaging only" below

For all transmitted light modalities, first set up Kohler Illumination

On the right side of the trinocular head set the rod to "Bino & Photo"
Polarizer (A) is out
Fluorescence cube is out (Choose "ND" at 1 or 32) on the somewhat mouse like control
Select objective (make sure objective is not going to rotate onto sample/slide)
Maximize field iris (F.S. = field stop = diameter of light to stage))
Minimize condenser aperture (c) (angle of light to stage is minimum. Gives max. depth of focus, highest contrast - great for find sample)
Focus on sample
Kohler:

Set condenser ring to "0" (note blank, "Phase 2", "Phase 3, "N2", "2-4x")
Minimize field iris (F.S.)
Focus condenser (Knob below stage on left) until field diaphragm is in focus
Center hole of light
Open F.S. until hole just fills the field of view as seen through the eye pieces
Open condenser aperture to maximum (o)
Refocus image if necessary
Kohler illumination has been set up. Will not have to redo if just changing slides.
Note: Kohler illumination will have to be redone if objective is changed.
If using the 2x or 4x objective set the condenser ring to "2-4x"

For Nomarski (DIC) - only if desired

Only with objectives labeled "DIC"
Set up for Kohler as described above
Slide in Polarizer (push to the left)
Open condenser aperture maximally
Select condenser-side Wollaston prism by turning the condenser turret to N2
Push in Analyzer
Rotate upper polarizer for optimum contrast


For Phase contrast - only if desired

Set up for Kohler as described above
Check that the Polarizer (at the trinocular head is out of the light path (to the right)
Open condenser aperture maximally. IMPORTANT!!! If the condenser aperture is closed, you will get NO light!
Select the correct Phase Ring for your objective on the condenser turret:

| | | | | | | | |
| --- | --- | --- | --- | --- | --- | --- | --- |
| Mag | NA | | Feature | Condenser | | Phase | WD |
| 2x | 0.1 | PlanApo | lambda | 2-4x | | - | 8.5 mm |
| 4X | 0.13 | PlanFluor | | 2-4x | or | PhL | 16.5 mm |
| 10X | 0.3 | | | 0 | or | Ph1 | 4.0 mm |
| 20x | 0.45 | ELWD | corr | 0 | or | Ph1 | 1.0 mm |
| 40X | 0.75 | ELWD | corr | 0 | or | Ph2 | 0.14 mm |
| 100x | 1.4 | | | 0 | | DIC | 0.13 mm |
| 100x | 1.3 | | | 0 | or | Ph3 | |

*The Ph3 objective must be obtained from a facility director for each use

Other objectives do not have phase contrast

Check that the analyzer is out of the light path
If the contrast is not good:

Turn the wheel below the eyepieces from "O" to "B" (for Bertrand lens)
While looking down the eyepieces, use the little silver knob on the eyepiece wheel to focus the Bertrand lens on the phase rings
If the light ring is completely within the dark ring, move the eyepiece turret back to "O" and continue
If the light ring is NOT completely within the dark ring:

Find 2 red-handled Nikon screwdrivers on the left side of the transmitted light arm
Insert the screwdrivers into the inner screw holes of the Phase ring insert in the condenser turret.
Turn the screwdrivers until the light ring is completely within the dark ring
Setting up for fluorescence imaging (only if required)
Lower objectives
Pull out analyzer slider on right side of scope trinocular head (above filter cube carousel)
Choose required objective. (Generally choose a lower power, locate sample and region of interest and then move to a higher power)
Ensure incandescent lamp is off at the switch on the left side of the scope OR the green power switch at the front of the base is off
Place sample on stage, cover slip up (This is an upright microscope)
Choose dichroic filter set by changing the "ND" (yeah this is not labeled correctly) setting on the mouse like control: 1 or 32=none 2=DAPI 4=fitc (blue light) 8=tritc/texas red (green light) 16=CY5 (orange light for FarRed)
Open fluorescence shutter on Nikon IntersiLight
Focus on sample
Switch to higher power objective if desired
Q-Capture - running the camera
Camera must be on before Q-Capture software is started
For transmitted light color imaging set the intensity wheel on the left side of the base of the scope to its maximum counter clockwise clicked position (ensures consistent color spectrum from the incandescent halogen lamp)
Run Q-Capture:

Press tool/exposure control window
Press green triangle (live capture)
Tab 1 set to 8 bits for camera and set to 8 bits for capture
Adjust exposure
Select tab 2
Select rectangular area that has no features
Press Color Balance button

Press capture to acquire image

When saving images turn off live viewing (avoids corruption of image while saving - due to firewire driver bug)
Powering down
Turn off the metal halide Lamp switch if it is turned on
Save captured images
Exit Q-Capture by hitting the red X on top right of window
Copy data to USB drive or network share
Turn off:

Camera
Switch at left rear of scope stand
Blue switch at right of stage

Transfers images to \\Network-server or USB drive
Safely eject USB devices of it has been written to
Log off computer (please do not turn off computer)
Clean immersion objectives used. Gently blot lens with lens tissue and wipe surrounding area. Clean up spills on the scope. Please trash disposables.
---
Objectives:
| | | | | | | | | |
| --- | --- | --- | --- | --- | --- | --- | --- | --- |
| | Mag | NA | | Feature | Condenser | Phase | WD | |
| | 2x | 0.1 | PlanApo | lambda | 2-4x | - | 8.5 mm | |
| | 4X | 0.13 | PlanFluor | | 2-4x | PhL | 16.5 mm | |
| | 10X | 0.3 | Plan Apo | | 0 | Ph1 | 4.0 mm | |
| | 20x | 0.75 | Plan Apo | | 0 | Ph2 | 1.0 mm | |
| | 40X | 0.75 | Plan Apo | corr | 0 | Ph2 | 0.14 mm | Correction collar must be set correctly |
| | 100x | 1.4 | Plan Apo | | 0 | DIC | 0.13 mm | |
| | 100x | 1.3 | | | 0 | Ph3 | | Not kept on scope |
Notes:

WD = working distance (from bottom of objective to top of cover slip)
corr = correction for cover slip thickness (

number

*10 is thickness in microns)
100x 1.4 is not par focal. This objective will have to be moved closer to sample relative to focus position of other objectives
2x 0.1
4x 0.13 PhL
10x 0.3 Ph1 dl 1.2 mm wd=15.2
20x 0.75 wd=1.0
40x 0.95 wd=? corr (coverslip correction collar must be setup for optimal image clarity)
100x 1.3 NA DIC/ph3
* = objective not kept on the microscope stand. See a facility director if you require this objective.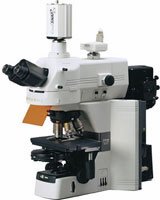 Camera:
Filters:
On Microscope carousel

FITC - blue excitation/green emission
Rhodamine / Texas Red - green excitation/red emission
Dapi - UV excitation/blue emission
CY5 - red excitation/far red emission invisible by eye (on loan from Brian)
Computer:
---