| | | |
| --- | --- | --- |
| | Marsico Hall Microscopy Fellowship (MHMF.ORG) | |
Olympus VS120 - Virtual Slide Scanner
Location: Marsico Hall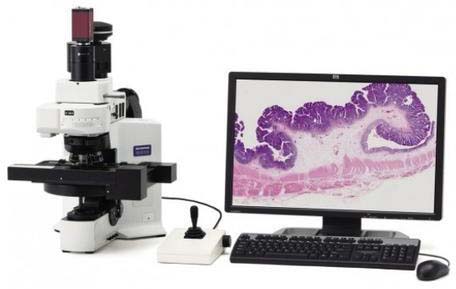 Notices:
New file server storage is available at \\minsky.med.unc.edu\vs200 - connect using same credentials as \\minsky.med.unc.edu\vs120 - see http://microscopy.unc.edu/shares for instructions
Please do not store data in "desktop", "My Computer", "My Documents", "My Pictures", etc. The C: drive needs to be kept as free as possible for temporary files created by the VS120 software. Please use the E: drive or D: drive.
Recently changed:
Important Information - On May 3 the system has been restored to its 2018-10-18 state due to a video card failure and C: drive corruption on May 3

Passwords have reverted to what they were in 2018. Please update your pwd at the system as soon as practical.
Login accounts created after 2018 may no longer be on the system
Some scan project profiles may not longer be available
Contact Michael if you would like a pwd reset or account reinstated
Old data/profiles/settings on the C: drive may be recoverable from the corrupted drive. Ask Michael before Nov 2020.

A 5th fluorescence channel for CY7 has been added to the system which has band pass cubes for DAPI, FITC, TRITC, CY5 & CY7 like fluorophores.
COVID-19 Mitigation :

Wash hands before and after using the system
Soap and paper towels are provided at the sink in the room
~70% alcohol is for gently wiping down (NOT spraying) the keyboard, mouse, joy stick and counter top
Spray alcohol onto paper towel/kimwipes under bench in order to prevent droplets floating onto microscope optics
NEVER spray near or on the microscope system!
The 40x objective correction collar can be cleaned with 91% Isopropyl alcohol. Avoid wetting the glass part of this objective
Please remove your slide trays, boxes, etc. from the bench area
Bring your own fresh disposable gloves if you like. Dispose of them before leaving.
Detailed Hygiene tips for microscopes

2020-02-13 New network configuration:

Web browsing and email is now blocked at the VS120 computer. This has been mandated by OIS/ITS since the system is a Windows 7 computer.
Access to file servers such as \\minsky.med.unc.edu\vs120 or \\ad.unc.edu\med\cf (shared/groups/home) is still possible
External web pages (e.g. www.med.unc.edu and the booking calendar) are no longer accessible while at the VS120 computer. However this page microscopy.unc.edu/vs120 is. Go figure?
Remote desktop access is still possible to & from the VS120 system. Contact Michael for details.
The System
Olympus BX61VS stand
Transmitted light - halogen lmap
Fluorescence - 5 channel DAPI like, FITC like, Rhodamine like, CY5 & CY7 like
LED Fluorescence light - X-Cite Xylis XT720S
CMOS camera fluorescence - Orca Flash 4.0 v3 cmos camera C13440-20CU
camera transmitted

Objectives:

Objectives
Mag.
NA
type
WD
corrections
cover slip
Immersion
2x
0.08
PlanApo N
-
#1.5
-
IUS-2
10x
0.40
UPlanSApo
-
#1.5
-
IUS-2
20x
0.75
UPlanSApo
-
#1.5
-
IUS-2
40x
0.95
UPlanSApo
coverslip thickness
0.11-0.21 mm
-
IUS-2
60x
1.35
UPlanSApo
150 um
-

#1.5

oil 1
UIS-2 bfp1

1 Standard immersion (carbon) oil (RI=1.51)
Viewing Software:
Using the system:
Quick startup/shut down guide
Network connection to:
Enquiries / Reporting Problems
Contact Michael or Jesse for assistance
Olympus
---